Stats:
Host:Weebly
Admin: Salya
Email
Partner: close|Site (email me)
Stories: 042
Designs: 457
Artwork: 150
Prompts: 021
Button

Elites

Invite Only or Win a chance for a spot!
Affies
Always open but need your button for the Link's page.
Rotation
Ask in Cbox. Need a 88by31 button.
YuGiOh is an old anime that I grew up with. My mom fell inlove with the original as I like all of the different YuGiOh shows. I don't know just how many I, Salya, will write to this anime, but let's hope I get good ideas with the guys I love. lol

Ocs: Amber/Aira, Alexia/Alix, Viki (GX), ??? (5s), ??? (Zexel),
Kids: none right now.

Title: I want to remember
Rating: E
Pairing(s): Trey x OC
Chapters: 01
Summary: WIP

---

Title: Lost Innocence
Rating: M
Pairing(s): Ryou x Alexia x Bakura(yami)
Chapters: rewriting
Summary: A short fic that tells why Alexia is only nice to her love(s) and twin.


---

Title: Love without you
Rating: M?
Pairing(s): Bakura x Alexia. (mostly)
Chapters: 01?
Summary: a short tell that tells you about why Alex is linked to our Yami Bakura. xD


---

Title: Past Loves

Rating: T

Pairing(s): Bakura x Alexia and Atem x Amber

Chapters:

One-shot

Summary: This is cute one-shot about how the twins deal with their lovers. May do another version of this.

---

Title: untitled story
Rating: WIP
Pairing(s): Bakura x Alexia?
Chapters: ...
Summary: I may drop this one.


---

Title:
Rating:
Pairing(s):
Chapters:
Summary:


---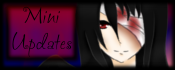 July 19
All designs was fixed.
July 18
new hit banner!
Hit page was changed around
changed headers


---
Drawing: []
Writing: []
Designing:[]
Gaming: []
Let's Plays: []
SpeedPaint: []
Unknown: [x]
Offline: [X]
Working on Elyasia: []
31th B-day [00] days away

Shop Orders
Name:Working/waiting/done|order|paid/no paid
1.
2.
3.
4.
5.
6.
7.
8.
9.
10.
Only 10 orders at the time. Will update once a week/month