Stats:
Host:Weebly
Admin: Salya
Email
Partner: close|Site (email me)
Stories: 042
Designs: 457
Artwork: 150
Prompts: 021
Button

Elites

Invite Only or Win a chance for a spot!
Affies
Always open but need your button for the Link's page.
Rotation
Ask in Cbox. Need a 88by31 button.
Mount Eclipse Is the semi-alive Volcano that sitsin the the mountain area northern part of the island. Paxir Forest happens to be all around this mountain. Lava is in the opening of the volcano, boiling away yet it never leaves the volcane it's self. Just what is keeping this volcano....safe?
There are caves runing all through the volcane that allows the girls to get from one side to another. Lava can be found in the caves as the caves have an unknown end.
There are 2 to 4 opening to the caves system and one huge cave which Dragons go
there
to breed.
Total animals here: 037
Dragons

Others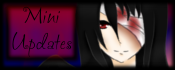 ---
Drawing: []
Writing: []
Designing:[]
Gaming: []
Let's Plays: []
SpeedPaint: []
Unknown: [x]
Offline: [X]
Working on Elyasia: []
30th B-day [00] days away

Shop Orders
Name:Working/waiting/done|order|paid/no paid
1.
2.
3.
4.
5.
6.
7.
8.
9.
10.
Only 10 orders at the time. Will update once a week/month