Stats:
Host:Weebly
Admin: Salya
Email
Partner: close|Site (email me)
Stories: 042
Designs: 457
Artwork: 150
Prompts: 021
Button

Elites

Invite Only or Win a chance for a spot!
Affies
Always open but need your button for the Link's page.
Rotation
Ask in Cbox. Need a 88by31 button.
Welcome to our Hits Page. Here will have artwork for each milestone, Tainted Wingz hits. As for as Visits. xD ((Btw It's based on the hits that the counter on the homepage gets. Or weebly's counter that I only see. hmm... maybe both. lol))

Sadly It's WIP since I, Salya, is taking my time doing this. XD I don't know if each one will be our mascots or random ocs of mine. I think it will be random since well it will be boring if it's just the two mascots for each pic, huh?

Donated hit artwork is always welcome. See the how to donate tab below.

---
1-150K

1M-150M


????


Donated Hit


How to Donate?

How to donate you ask?
Easy, you have one of 2 ways.
One way is to go to DA, if you have an account and drop me a note.
Other way is why using the contact form to the right and full it out!

As for Hit artwork, it can be be any style. The only requirement is that you have one or two of my characters in the photo. you can ask for Refs or look for them on the Artwork pages > Original or Fan-art.

Since This site is DARK themed, Soft gore is welcome(hint Sina). Hentai, or anything sexual isn't allowed. For an idea what is allowed, look at my artwork.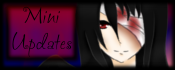 ---
Drawing: []
Writing: []
Designing:[]
Gaming: []
Let's Plays: []
SpeedPaint: []
Unknown: [x]
Offline: [X]
Working on Elyasia: []
30th B-day [00] days away

Shop Orders
Name:Working/waiting/done|order|paid/no paid
1.
2.
3.
4.
5.
6.
7.
8.
9.
10.
Only 10 orders at the time. Will update once a week/month