Stats:
Host:Weebly
Admin: Salya
Email
Partner: close|Site (email me)
Stories: 042
Designs: 457
Artwork: 150
Prompts: 021
Button

Elites

Invite Only or Win a chance for a spot!
Affies
Always open but need your button for the Link's page.
Rotation
Ask in Cbox. Need a 88by31 button.
Welcome to TW's header page. Below you will see blank headers that Salya made for you.

Count of: 08
Last updated: 12/02/2016

Save to your sever, and add text.
All headers are the sized of: 700 by 200
Click to see the full size!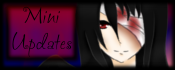 July 19
All designs was fixed.
July 18
new hit banner!
Hit page was changed around
changed headers


---
Drawing: []
Writing: []
Designing:[]
Gaming: []
Let's Plays: []
SpeedPaint: []
Unknown: [x]
Offline: [X]
Working on Elyasia: []
31th B-day [00] days away

Shop Orders
Name:Working/waiting/done|order|paid/no paid
1.
2.
3.
4.
5.
6.
7.
8.
9.
10.
Only 10 orders at the time. Will update once a week/month